Munich, Germany 1-3 September 2021
"Things are starting to look promising for our 2021 Decorative Surfaces Conference. However, we still have to keep in mind that we are in the midst of a global pandemic. Even if we are able to meet in September personally, and I think chances are good, it will still be a conference like no other we ever organized. We will most probably be required to wear masks and keep distance from each other. We might also face restrictions in the number of delegates. Never the less, we have received overwhelming response from our attendees over the last weeks. Everyone is looking forward to the first meeting in our industry since a long time. For those of you who cannot attend for whatever reason there will be an opportunity to join the meeting via the internet. So, while we need to ask for your understanding that things will be different this year in many aspects, we still look forward to seeing you face to face again. We have run quite a few successful webinars over the last months, but just isn't the same. Join us and meet the industry before the window of opportunity closes again."
Check out our full two day program. We will keep you informed about any changes due to the rescheduling of the event.
A limited number of rooms have been reserved at the conference hotel for the delegates for a preferred rate.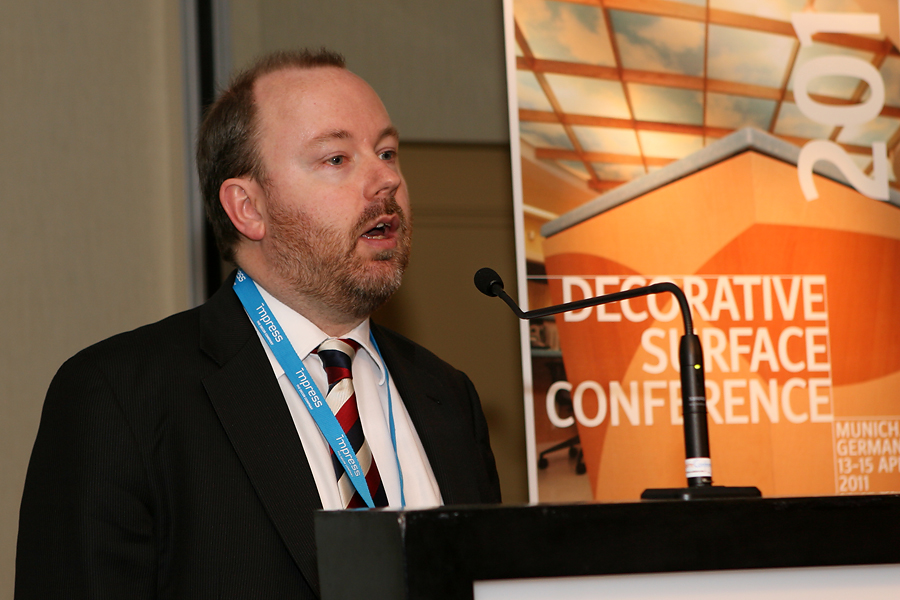 Presented by Tim Phillips of IMI Europe and Catenary Solutions, the course assumes a basic scientific knowledge and is designed to bring non-experts up to speed on the basics of inkjet technology for décor printing.
Covid-19 Update
Good news: Since June 9, 2021, conferences are allowed in Bavaria, following strict hygiene protocols. We will therefore continue to plan the event as scheduled. We will notify you of any change that might occur.
Update on time and location
We found a new place and time for our Decorative Surfaces Conference, which was originally supposed to be held in March of 2020 in Vienna. We assume that developments on the pandemic will allow us to meet in early fall, and by relocating the event to Germany we will reduce the potential impact of a German travel warning, like we had in the past. Meanwhile, we will continue to run webinars from our US office of TCM North America.
Alessandro Zanotto
FunderMax
FREQUENTLY ASKED QUESTIONS
How can I become a speaker?
We are always glad to welcome new speakers to our events. Please get in touch with us and send us the title of the proposed presentation, name of the speakers, speaker's affiliation and a brief summary of the content of your proposal.
Do speakers attend for free?
Yes, one speaker per presentation can attend for free. Please do not use the registration form if you are a speaker.
How can I become a sponsor?
Please get in touch and we will provide you with an offer according your requirements.
Is the hotel room included in the conference fee?
No, but we have negotiated a preferred rate for our delegates, which included breakfast and wifi internet.
Will the speakers' slides be available for the delegates?
We will provide the slides for download on a password protected site after the conference, subject tot he respective speaker's approval.
Will I receive a list of delegates?
A list of participants will be handed out at the conference.
> Download final workshop program
> Download final conference program
> Download workshop slides (requires password, participants only)
> Download conference slides (requires password, participants only)
SIGN UP FOR OUR NEWSLETTER
Technical Conference Management 
Fasangasse 1B 
2103 Langenzersdorf
Austria