Munich, Germany 1-3 September 2021
Thank you to all participants of the 2021 Decorative Surfaces Conference and the IMI Workshop "Inkjet Technology for Décor Printing: An Introduction to a Powerful Technique", live in Munich and via the internet. We look forward to seeing you again at the next Decorative Surfaces Conference from September 1-2, 2022. A workshop on the digital production workflow will be held on August 31.
"Excellent conference last week! Not only did I enjoy myself, but the potential business opportunities may be very lucrative. Thank you for organising a professional and safe conference."​
Last update: August 29, 2021, 15:00
Check out our full two day program. We will keep you informed about any changes due to the rescheduling of the event.
A limited number of rooms have been reserved at the conference hotel for the delegates for a preferred rate.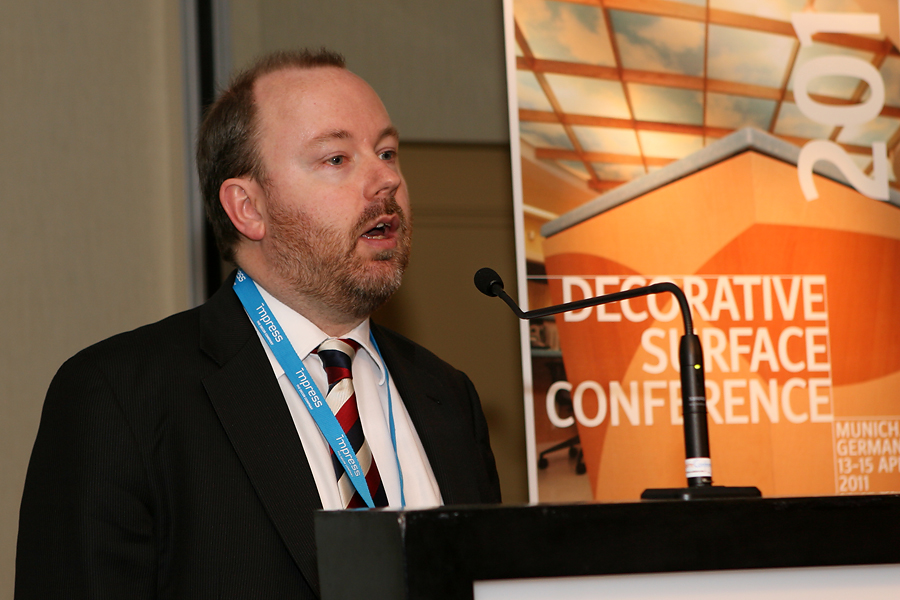 Presented by Tim Phillips of IMI Europe and Catenary Solutions, the course assumes a basic scientific knowledge and is designed to bring non-experts up to speed on the basics of inkjet technology for décor printing.
The speakers slides are available for download for all participants, subject to the speaker's approval.
You can purchase the slides of the presentations in pdf form. Slides are available for download, subject to the respective speakers' approval.
FREQUENTLY ASKED QUESTIONS
How can I become a speaker?
We are always glad to welcome new speakers to our events. Please get in touch with us and send us the title of the proposed presentation, name of the speakers, speaker's affiliation and a brief summary of the content of your proposal.
Do speakers attend for free?
Yes, one speaker per presentation can attend for free. Please do not use the registration form if you are a speaker.
How can I become a sponsor?
Please get in touch and we will provide you with an offer according your requirements.
Is the hotel room included in the conference fee?
No, but we have negotiated a preferred rate for our delegates, which included breakfast and wifi internet.
Will the speakers' slides be available for the delegates?
We will provide the slides for download on a password protected site after the conference, subject tot he respective speaker's approval.
Will I receive a list of delegates?
A list of participants will be handed out at the conference.
> Download final workshop program
> Download final conference program
> Download workshop slides (requires password, participants only)
> Download conference slides (requires password, participants only)
SIGN UP FOR OUR NEWSLETTER
Technical Conference Management 
Fasangasse 1B 
2103 Langenzersdorf
Austria