Munich, Germany 1-3 September 2021
"As for many others, 2020 has not been the easiest year for a conference organizer. Basically, we were told that in the foreseeable future we will not be able to do our work, at least not in the way we used and loved to do it. We needed to learn that the all so popular webinars are only a poor replacement for our events in real life. But at the same time, we were overwhelmed by the sympathy and support we received from our sponsors, participants, partners and suppliers. Their message was that they look forward to returning to our events once this nightmare is over. All that gives us hope that there will be turnaround in 2021. We have therefore started to plan to reschedule the 2020 conference for 1-3 September, 2021 in Munich. We believe that a combination of warmer weather in summer, together with the emerging vaccinations and carefully selected measures at the conference will favor events the size of ours. We will still continue to evaluate the situation on a daily basis. Meanwhile, please let us know in case you have questions. I look forward to seeing you again in real life."
Check out our full two day program. We will keep you informed about any changes due to the rescheduling of the event.
A limited number of rooms have been reserved at the conference hotel for the delegates for a preferred rate.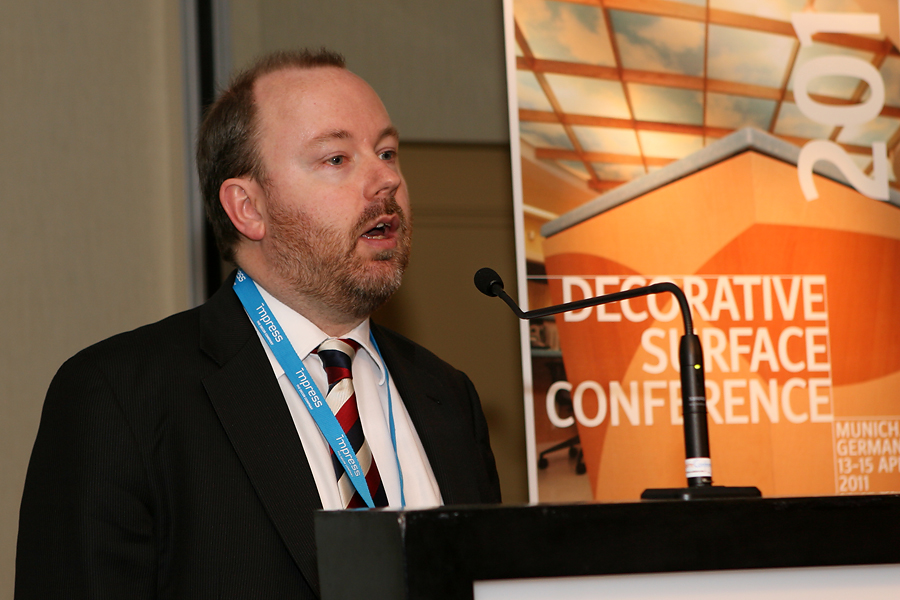 Presented by Tim Phillips of IMI Europe and Catenary Solutions, the course assumes a basic scientific knowledge and is designed to bring non-experts up to speed on the basics of inkjet technology for décor printing.
Update on time and location
We found a new place and time for our Decorative Surfaces Conference, which was originally supposed to be held in March of 2020 in Vienna. We assume that developments on the pandemic will allow us to meet in early fall, and by relocating the event to Germany we will reduce the potential impact of a German travel warning, like we had in the past. Meanwhile, we will continue to run webinars from our US office of TCM North America.
Covid-19 Update
Based on the request of our sponsors and speakers we have postponed our October event to 2021. We may also relocate the event to Germany, so that travel restrictions are less of an issue for the majority of the delegates.
Alessandro Zanotto
FunderMax
FREQUENTLY ASKED QUESTIONS
How can I become a speaker?
We are always glad to welcome new speakers to our events. Please get in touch with us and send us the title of the proposed presentation, name of the speakers, speaker's affiliation and a brief summary of the content of your proposal.
Do speakers attend for free?
Yes, one speaker per presentation can attend for free. Please do not use the registration form if you are a speaker.
How can I become a sponsor?
Please get in touch and we will provide you with an offer according your requirements.
Is the hotel room included in the room rate?
No, but we have negotiated a preferred rate for our delegates, which included breakfast and wifi internet.
Will the speakers' slides be available for the delegates?
We will provide the slides for download on a password protected site after the conference, subject tot he respective speaker's approval.
Will I receive a list of delegates?
A list of participants will be handed out at the conference.
> Download final workshop program
> Download final conference program
> Download workshop slides (requires password, participants only)
> Download conference slides (requires password, participants only)
SIGN UP FOR OUR NEWSLETTER
Technical Conference Management 
Fasangasse 1B 
2103 Langenzersdorf
Austria